Posted on 24. Sep, 2010 by Staff Writer Candy Del Carmen in Blog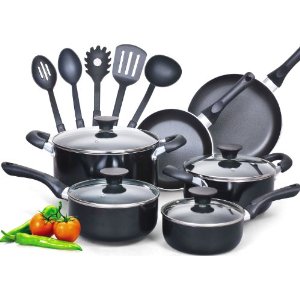 The notion of well-being pertains to healthy lifestyle involves proper diet, regular exercise, free from alcohols and cigarettes, stress free, away from environmental pollution, etc. No matter how one hundred percent sure that you live a healthy life, there are things that would come into your attention that would totally blow off your mind.
Like the recent research linking nonstick cookware to cholesterol, increasing the bad cholesterol, especially to children.

Yes, the same cookware that you have in your kitchen, and the same cookware used in most restaurants. Even before, most household consumers preferred non-stick pans over ordinary cookware because it is made of materials such as Teflon or PTFE coating specifically designed to prevent any food from any sticky food substances to the surface of cookware while cooking.
Long time ago, cookware is made of Teflon or PTFE that was invented in 1938 in a joint venture of Dupont Company and registered the trademark in 1944. The substance of PTFE has several unique properties and good corrosion resistance.
Nevertheless, Teflon becomes in the hot seat when many controversies arose regarding its implication to health. Today, other non-stick coatings are used such as mixture of ceramic and titanium that are sandblaster to the surface and fired to blazing 20,000 Celsius degree. Most consumers find non-stick cookware useful in cooking and easier for them to remove the residue on the pan. But there is more to that, because there are conclusive reports on the effect of the Teflon is once again faced another controversy.
Recent Research on Teflon
Just recently, the headline stunned many household consumers linking non-stick chemical used in many cookware surfaces. Researches revealed in the Archives of Pediatrics and Adolescent Medicine that high levels of PFOA found in non-stick cookware was connected to an increase in bad cholesterol.
The subjects were 12,000 children exposed to man made perfluoroalkyl acid, Teflon or PFOA through their contaminated water supply with high level of chemicals. It showed on the blood test that they have higher levels of PFOA than the normal average of 3.9ng/ml. You cannot imagine that their levels were 69.2ng/ml, too high than to what are expected and this accounted for the increase of their total cholesterol.
To be exact on the figure, the 1/5 of the subjects had cholesterol levels PFOA 4.6 ml/dl higher and the bad cholesterol of LDL levels 3.8mg/dl higher as compared to the lowest PFOA levels. Yes, the same PFOA is found on cooking pans which made it risky for health. These chemicals are used in manufacturing which give non resistance to pans, and also used in factory treatments for carpets, fabrics, and stain resistant clothing.
Actually, there are several cases filed against Dupont and the big corporation had difficulty with Environmental Protection Agency about the safety of their product few years back. In fact, in 1981, the contaminated water in Dupont's plant in West Virginia and the high level of Teflon found in the body of pregnant worker which remained unreported for so long. In 1993, there were evidences found in the levels of cholesterol of workers in their manufacturing plant in Italy. Then finally in 2005, Environmental Protection Agency declared that PFOA is considered carcinogen and Dupont agreed to pay $10.25 million for damages.
Side Effects of PFOA
According to researches, Teflon can travel to some organ like liver which is responsible for handling any fat comes from diet. To make it worst, if the patients are ingesting food cooked in non-stick cookware with high PFOA chemicals and they are misdiagnosed for having high cholesterol and were given a statin drugs, a second chemical intervention for high cholesterol.
Do you have any idea what could be the worst thing that can happen to the patient?
The side effects are damaging to liver, kidneys, eyes, and muscles. Although there are no clear evidences and direct study between cookware and cholesterol, further research is recommended to prove the assumption.
With various studies conducted over fifty years about Teflon, there are clear evidences that when PTFE is heated to high temperature above 464 degrees, 15 types of carcinogen or types of toxic gases were produced and can deeply penetrate into the lungs.
Best Healthy Alternatives
Now that we are well informed about the risk of using non-stick cookware, it is now our responsibility to take any action against this Teflon toxic chemical and prevent any degradation to environment and most importantly to human health.
Stay on the safe side and take some other alternative like use stainless steel cookware designed with copper plating on the bottom and better stick on temperature not exceeding to 350 degrees Celsius. But of course, the most ideal and recommended is to eat more raw foods, or better boil, or steam the food instead of cooking.
Once again, cooking, grilling, and broiling foods in high temperature have been proven in several researches that these may produce several types of carcinogen or toxins causing cancer, regardless of what cookware you are using.