Posted on 13. Jan, 2011 by Staff Writer Candy Del Carmen in Blog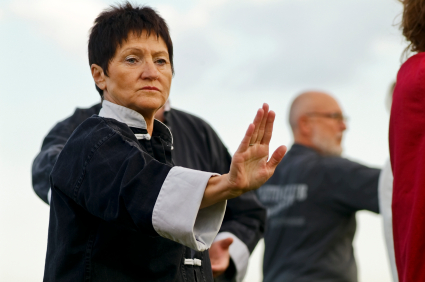 Originally, tai chi was developed in China as the form of self-defense and just evolved into a form of exercise in later years as best used for stress reduction. The art if tai chi is the use of gentle flowing movements that is said beneficial to reduce the stress as the main cause of busy lifestyle. It is called "meditation in motion" as it encourages tranquility doing complete routine with gentle movements which connects the mind and body.
How does Tai Chi works?
Tai chi can bring closer the mind and body together, as the movement creates a state of calmness and relaxation. When you do the tai chi, it only involves stretching and very gentle physical exercise. It involves series of postures and movements in a graceful and slow manner without a pause so that the body is still in constant motion. There are more than 100 possible positions and movements which are named after nature and animals. Nevertheless, all forms of tai chi include patterns of movement regardless of different variations. All of which variations have to coordinate with the breathing so that an individual can achieve a true sense of inner calm. There is a need for full concentration as tai chi will force you to live in the present moment. It is rest assured that once you have achieved your full concentration and focus on the routine, all the stress, tension and anxiety you are feeling will eventually disappear.

New Study on the Health Benefits of Tai Chi
The history of tai chi does not evolve in relieving stress alone. This form of exercise has been subject of many researches to check some other health benefits it serve to people with balance and flexibility issues, weak muscles and joint problems. Just recently, a new study on the significant benefits of Tai Chi will surely bring relief to those people suffering from rheumatoid arthritis, fibromyalgia, and osteoarthritis.
The Arthritis Foundation conducted the largest study regarding Tai Chi program wherein the participants showed great improvement in fatigue, stiffness, and pain. In addition, the ability of the participants to reach while maintaining their balance has improved, as said by Leigh Callahan, PhD, the lead author of the research.
In relation to the recent study about Tai Chi, there are also previous researches which examined how tai chi can relieve arthritis pain. For instance, the University of North Carolina in team up with the Centers for Diseases Control and Prevention wherein there were 354 participants recruited from different sits in New Jersey and Carolina. To be qualified as the subject of the study, the participant has to undergo doctors' diagnosis of arthritis, must be18 years of age or older but can move independently without any assistance.
These participants were randomly assigned into two groups wherein the first group was placed in delayed control group that also received Tai Chi course. Nevertheless, all those who participated received an 8-week follow-up evaluations and given a questionnaire regarding their daily physical activities and their overall psychosocial and general health. In this way, the researchers can measure their perceived self-efficacy and helplessness and their physical performance as recorded for their timed chair stands, gait speed and measures of balance.
For the result, the participants who had intervention showed moderate improvements in their stiffness, pain and fatigue. Moreover, as their psychosocial variables were measured, they had increased their sense of well being. Lastly, they had improved their balance and reach.

Who Can Perform Tai Chi?
If you worried whether tai chi is an appropriate exercise for you, remember that tai chi varies in the intensity, form and style. There are some forms of tai chi which are fast-paced and exerting than any another form. Nevertheless, there are also forms of tai chi which are suitable for everyone because the movement is so measured so that you can keep up with the slow paced rhythmic movement. It is best recommended that you have to consult your doctor before starting the program. With this regard, you may know if you have some health issues pertaining to your heart, joints and spine. You may also have to check if you have developed fractures and severe osteoporosis. Please also take note that tai chi is not a substitute to any traditional medical care.
Other health benefits of tai chi are the following:
It can improve the quality of sleep
It can lower blood pressure
It can improve cardiovascular diseases of older people
It can relieve chronic pain
It can increase the endurance, agility and energy
It can improve the overall feelings of well-being
There are books and video tutorial for Tai chi. Of course, seeking for tai chi experts is better option so that you may gain the full benefits of tai chi. A good tai chi instructor will also teach you the underlying philosophy and relaxation techniques. Likewise, you can learn the specific and correct positions to regulate the breathing and tai chi movements that have to be performed properly and safely. Otherwise, any wrong movement may result to negative side effects and further injuries to your existing condition. For the firs timers, expect to have a possible muscle strain if you overdo it during the first session. To finish, you can reap the health benefits of tai chi in time and with constant practice. You may also find it helpful if you can practice tai chi at the same time and in the same place so that you can develop a good routine.