Posted on 24. Mar, 2011 by Emma Deangela in Alkaline Diet Tips, Alkaline Foods, Blog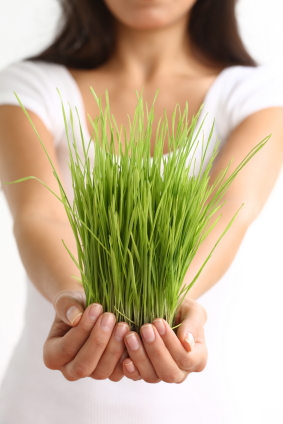 For all its widely acclaimed therapeutic benefits, wheatgrass hasn't totally penetrated its way to the mainstream market just yet. Whether you want to get through a busy day with vigor and enthusiasm or are looking for an alternative way to get rid of a certain health problem, you should definitely look into wheatgrass as a regular supplement.
The Discover of the Wonders of Wheatgrass
As a health supplement, wheatgrass has a humble if not surprising beginning. It was a result of an experiment conducted by Charles Schnabel, an agricultural chemist, among chickens in the 1930s. With most of his chickens in an ill state, he dried and powdered freshly grown wheatgrass and fed them to his hens. The result? Not only did the chickens fully recover, they were also able to produce twice as much eggs. Fed regularly to his chickens, he noticed that the lifespan of his chickens was also significantly longer.

He then gave out powdered wheatgrass to his relatives and friends and, to no surprise, they began feeling more alive and a lot healthier. Since then, numerous research and studies have been conducted in order to find out exactly what wheatgrass does to the body. As more studies are conducted, the link between wheatgrass and its miraculous claims grow ever closer.
The Health Benefits of Wheatgrass
Many health benefits have been attributed to wheatgrass. Some claim that it can help cure cancer, while others resolutely state that it has helped them become more energetic. Although of all these claims have yet to be proven, there are a number of studies that have verified most of them. With all these claims
Ulcerative Colitis
A double blind, placebo-controlled study was conducted among people suffering from ulcerative colitis. In one group, 21 patients were given 3 shots of fresh wheatgrass juice, for a total of 100 ml. The results of the study were far from insignificant. In fact, patients to whom wheatgrass was administered were reported to have a reduction of the symptoms of ulcerative colitis by four levels. As for any ill side effects, there were practically none.How exactly was the reduction of ulcerative colitis measured? There were two determinants: first, the symptoms associated with ulcerative colitis did manifest as much as in the group to whom only placebo was administered. Another is the colonoscopy appearance, which showed that the colon was not in as damaged as state as the other group.As a form of inflammatory bowel disease, ulcerative colitis is by open sores in the colon. Around 35 to 100 people in every 100,000 people are afflicted with this problem, and trends suggest that the number is growing. Those who have been positively diagnosed with this problem should consider taking wheatgrass supplement in the amount indicated in the study, or even more, as per doctor's advice.
Prevention of Cancer
It's a well-founded fact that vegetables that are dark green and high in beta carotene can prevent cancer in the lung, ovary, stomach, cervix, and colon. This is because of the antiseptic and high amount of fiber found in such food. These types of vegetables also act as cell regenerators, making sure that your body is in a constant state of fullness. Foods high in enzymes, on the other hand, are increasingly becoming a necessity—no thanks to the overwhelming amount of pollution in our environment. These pollutants adversely affect the body by.Now, what is the role of wheatgrass in the prevention of cancer? With the increased amount of enzymes, amino acids, beta carotene and fiber (among many other nutrients) found in wheatgrass, the toxins caused by the food you eat and environmental pollutants are neutralized. These are the exact same carcinogens that ought to be expelled but are unfortunately stored in your body because of the lack of toxin-fighting nutrients in your body. Wheatgrass ensures that your body maintains its stable and natural state, so as to prevent cancer from creeping in your body.  A study published in the American Society for Nutritional Sciences support this claim. The cancer-preventive quality of wheatgrass is also supported by the a 2007 research which says that dietary chlorophyll derivatives like wheatgrass are effective in improving digestion and preventing cancer.
Diminished Need for Transfusion
Patients with thalassemia (a form of anemia) and myelodsplastic syndrome regularly need transfusion. Breast cancer patients likewise need blood-building meds especially when undergoing chemotherapy. In recent studies made, wheatgrass therapy was administered to these patients. In thalassemia patients, specifically, 100 ml of wheatgrass juice was given daily to children. The result? The need for transfusion was reduced by as much as 50%. The results of this pilot study was published in the Indian Pediatric, entitled: Wheatgrass Juice Reduces Transfusion Requirements in Patients with Thalassemia Major: A Pilot Study.A study published in the Journal of Clinical Oncology shows that patients with Myelodysplastic Syndrome had less need of transfusions as well. Finally, a study published in Nutrition and Cancer suggest that wheat grass helps blood activity in breast cancer patients undergoing chemotherapy.
Nutritional Value of Wheatgrass
Through all these studies, the perpetual question remains: what exactly makes wheatgrass such an essential commodity in the body?
The sad fact is that not a lot of people ask this life-changing question. The general public know all too well that spinach and broccoli are healthy, but have no idea that wheatgrass is far more nutritional. Wheatgrass contains high concentrations of protein, beta-carotene, vitamin B12, phosphorus, calcium, iron, and potassium. In fact, Schnabel himself said that indoor grown wheatgrass is 23 times as powerful as regular green vegetables.
By regularly taking wheatgrass, exactly what differences in your body will you feel? For starters, your body will be cleansed of harmful toxins and will ultimately be back in its formerly healthy digestive state. In effect, problems such as constipation, skin itching, and indigestion are effectively solved.

How to Prepare Wheatgrass
Although not as popular as other vegetables, wheatgrass is increasingly becoming commercial as it is already available as tablet supplements, tinctures, powder concentrate, liquid extracts, and juice. In fact, you can even buy seeds and grow them yourself in your indoor garden!